The Fair is Coming!
100TH ANNIVERSARY! MAY 17,18,19, 2019
---
LIVE MUSIC COMING FOR 2019!
From the 2018 Powhatan Fair
One Job "Them Changes" Video by Rockitz with Brooke Saunders and Paul Magill
---
THE 2019 POWHATAN FAIR
MAY 17 - 19, 201l9
---
Check Back - more information is being added as the fair gets closer!
---
Friday: 5PM until close
Saturday: 1PM until close
Sunday: Rides Open at 1PM until close

---
List of Daily Attractions at the 2019 Powhatan County Fair
1. Deggeller Attractions Midway
2. Magic Show
3. Kent Family Circus
4. Wild West Show
5. Historical Villiage - Show Barn 4-H Cow Milking
6. Historical Village – Blacksmith Shop Demos
7. VSU Agriculture Department Demonstrations
8. Photography Demonstration
9. Mechanical Bull - Kids Fun Zone
10. Pony Rides - Kids Fun Zone
11. Petting Zoo - Kids Fun Zone
12. Nightly Grandstand Events
13. ZuZu Acrobat
14. Civil War Camp
---
CELEBRATE WITH US - OPEN MIC
Karoke, May 18 at 5pm
SIGN UP ON SITE
---
With a desire to create a venue to bring the community together in a healthy and creative way, the Open Mic unites individuals with and without disabilities by encouraging them to show off how people strive to be the best possible versions of themselves.
---
Come out and "show off"!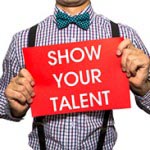 ---
Unique acts are always appreciated!!!
---
Music, Singing Dance, Art, Juggling, Modeling, sewing, quilting, gymnastic, martial arts, reading, poetry, etc.
Gospel Fest and evening of Jazz
---
Invitation to Perform
---
CELEBRATE WITH US - OPEN MIC
---
May 18 at 5 pm
Email: randa.jackson01@ gmail to sign up
---
If you would like to be considered to be a vendor for this year's festival, please complete the appropriate applications
---
There is nothing more American than the County Fair